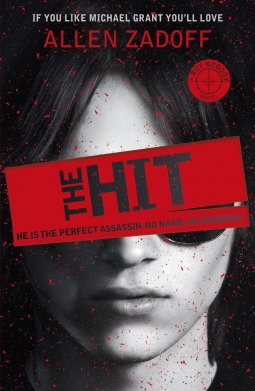 The Hit
By Allen Zadoff
Genre: Mystery, Action, Romance
Age category: Young Adult
Publisher: Orchard Books
Add to Goodreads
Blurb:
Boy Nobody is the perennial new kid in school, the one few notice and nobody thinks much about. He shows up in a new high school, in a new town, under a new name, makes few friends and doesn't stay long. Just long enough for someone in his new friend's family to die — of "natural causes." Mission accomplished, Boy Nobody disappears, and moves on to the next target.

When his own parents died of not-so-natural causes at the age of eleven, Boy Nobody found himself under the control of The Program, a shadowy government organization that uses brainwashed kids as counter-espionage operatives. But somewhere, deep inside Boy Nobody, is somebody: the boy he once was, the boy who wants normal things (like a real home, his parents back), a boy who wants out. And he just might want those things badly enough to sabotage The Program's next mission.
My Review:
I got a copy of The Hit from Netgalley in exchange for an honest review.
The Hit was a let down for me. I had so many expectations from this book. It was alright in the beginning, I lost my interest by the end of the story.
The main problem that I had with this book was that I couldn't connect with the lead character, "Benjamin".He was too monotonous for me. I like my books with a bit more sass and snark. He was perfect in his work, though, and it worked out in the story. I loved Sam, the heroine, much more than Benjamin.
This book had the same old cliche which is every other assassin book, the hero questioning everything that had been taught to him after falling in love with one of his targets. We all know how that works out, don't we? At least the writing was good. But I definitely wasn't a fan of that ending.
This one had a lot of wasted potential. But I know I'm gonna read the sequel when I get it.
So, have any of y'all read this book? What did you think of it? If you didn't, then go and read it, maybe you'll like it more than I did!