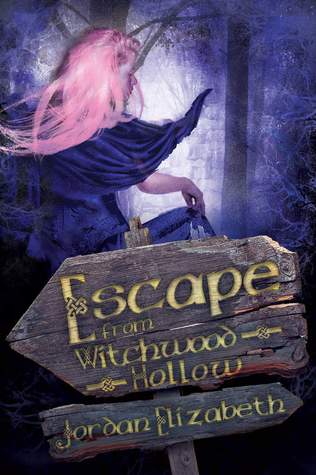 Title: Escape from Witchwood Hollow
by Jordan Elizabeth Mierek
Series: N/A
Genre: Fantasy, Paranormal, Historical Fiction
Age Category: Young adult
Rating: 4 stars
Add to Goodreads
Everyone in Arnn – a small farming town with more legends than residents – knows the story of Witchwood Hollow: if you venture into the whispering forest, the witch will trap your soul among the shadowed trees.

After losing her parents in a horrific terrorist attack on the Twin Towers, fifteen-year-old Honoria and her older brother escape New York City to Arnn. In the lure of that perpetual darkness, Honoria finds hope, when she should be afraid.

Perhaps the witch can reunite her with her lost parents. Awakening the witch, however, brings more than salvation from mourning, for Honoria discovers a past of missing children and broken promises.

To save the citizens of Arnn from becoming the witch's next victims, she must find the truth behind the woman's madness.

How deep into Witchwood Hollow does Honoria dare venture?
I received this book from Netgalley in exchange for an honest review. Thank you, Curiosity Quills Press and Netgalley!
Escape from Witchwood Hollow was a delightful read. It follows the story of three girls, Lady Clifford, Albertine, and Honoria, and their dealings with Witchwood Hollow. I didn't actually expect to like it so much. I thought it was going to be a mediocre read, but no, I was wrong.
Of all the three girls, I liked Albertine the best. I won't say much about Lady Clifford, in case I reveal something spoilery, but hey, just one word for her, EVIL. And Honoria was okay, for the most part. Though she got on my nerves sometimes, I didn't really hate her, nor did I really like her.
What I loved most of all was the story. It was really imaginative and was a breath of fresh air. I was the most excited for Albertine, like I said before, but the other storylines were also quite good. This book was well written, though a bit tedious in some places, and it compelled me to keep on reading. And the ending! Seriously, Jordan surprised me with THAT ending. I'm still in shock. But hey, I don't understand one thing, why is a girl with pink hair in the cover? Pink hair wasn't mentioned anywhere in the book! I'm confused.
All in all, Escape from Witchwood Hollow was a great read that I really enjoyed. I definitely want to read more by Jordan!
Have any of you read Escape from Witchwood Hollow? If you haven't, read it! And if you did read it, what did you think about it?