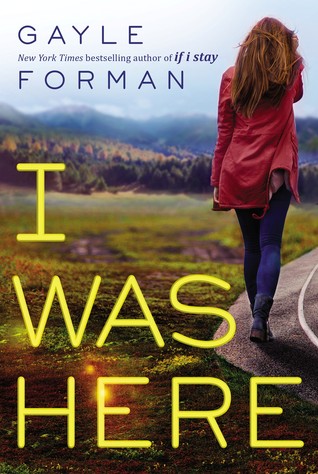 I Was Here
by Gayle Forman
Series/Standalone: Standalone
Genre: Contemporary, Realistic Fiction, Mystery
Age Category:New Adult
Release date: January 27th, 2015
Rating: 2.5 stars
Goodreads | Amazon
Cody and Meg were inseparable.
Two peas in a pod.
Until . . . they weren't anymore.

When her best friend Meg drinks a bottle of industrial-strength cleaner alone in a motel room, Cody is understandably shocked and devastated. She and Meg shared everything—so how was there no warning? But when Cody travels to Meg's college town to pack up the belongings left behind, she discovers that there's a lot that Meg never told her. About her old roommates, the sort of people Cody never would have met in her dead-end small town in Washington. About Ben McAllister, the boy with a guitar and a sneer, who broke Meg's heart. And about an encrypted computer file that Cody can't open—until she does, and suddenly everything Cody thought she knew about her best friend's death gets thrown into question.

I Was Here is Gayle Forman at her finest, a taut, emotional, and ultimately redemptive story about redefining the meaning of family and finding a way to move forward even in the face of unspeakable loss.
I Was Here follows Cody and Meg, two best friends, who have been slowly but steadily drifting apart. But when Meg drinks a bottle of industrial strength cleaner and kills herself, it comes as a huge surprise to Cody, who had never known or suspected that Meg wanted to end her life. This is the story of Cody trying to understand why Meg ever wanted to kill herself.
I LOVED LOVED LOVED Forman's If I Stay duology, and I had sky high expectations for this one. And this was a complete let down.
First of all, let me just that I love Forman's style of writing. And this book was written quite beautifully too. But the rest of the elements of this book were a major no-go for me.
This one is definitely a case of it's not you, it's me. Everyone has loved it. Maybe it's just me being very picky, but I was very frustrated with this book. I could not connect to a single character. Not Cody, not Ben, not anyone. That made for a very unsettling reading experience.
Cody. In the beginning, I liked her a bit, as the book progresses, I was really annoyed by her. And Ben was an okay character, nothing really memorable. I don't know anything about Meg. I just didn't connect with her at all. She dies in the beginning of this book, so all we get to know about her is through Cody's memories. And their friendship? Don't even let me get started on that. We are just supposed to believe that they are bets friends, but we get no proof of that. UGH.
Overall, I was really disappointed with this one, and I really hope Forman's next book is better.