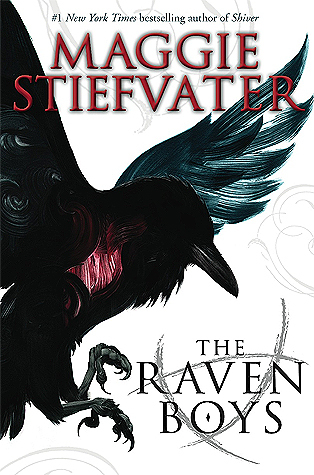 The Raven Boys
by Maggie Stiefvater
Series/Standalone: Series – The Raven Cycle #1
Genre: Fantasy, Paranormal, Magic
Age Category: Young Adult
Release Date: September 18th 2012
Rating: 4.5
Every year, Blue Sargent stands next to her clairvoyant mother as the soon-to-be dead walk past. Blue never sees them–until this year, when a boy emerges from the dark and speaks to her.

His name is Gansey, a rich student at Aglionby, the local private school. Blue has a policy of staying away from Aglionby boys. Known as Raven Boys, they can only mean trouble.

But Blue is drawn to Gansey, in a way she can't entirely explain. He is on a quest that has encompassed three other Raven Boys: Adam, the scholarship student who resents the privilege around him; Ronan, the fierce soul whose emotions range from anger to despair; and Noah, the taciturn watcher who notices many things but says very little.

For as long as she can remember, Blue has been warned that she will cause her true love to die. She doesn't believe in true love, and never thought this would be a problem. But as her life becomes caught up in the strange and sinister world of the Raven Boys, she's not so sure anymore.
HELP, I JUST FELL IN LOVE.
The Raven Boys has been in my TBR for as long as I can remember, but I never got around to reading it. However, after seeing Cait rave about it constantly, I knew that I had to pick it up. And I don't regret that decision, y'all.
I haven't read any other books by Maggie Stiefvater, so her writing was a little hard for me to get into in the beginning. But after reading a couple of chapters, I was totally hooked. This book is so unique.
The characters. GODS, I loved each and every one of them. Blue was eccentric and a badass in her own way. I loved how she, from being skeptical of the Raven Boys, slowly became one of them. And the Raven Boys. All of them were so well written. Gansey, the glue that quite protectively holds the group together, Ronan, the snarky tattoed guy, Adam whom I desperately wanted to shield from all his problems because he was adorable,  and quiet, sweet Noah. I especially loved Noah and Blue's friendship ❤ The secondary characters were also quite brilliant. I loved Blue's family, especially the dynamic between Maura, Calla, and Persephone.
The start of the book was a little slow, but as I read, I began to fall in love. Maggie's writing is so beautiful, you guys! I've never read anything like it. The way she developed each of her characters and described places made me adore it. The premise of this book is wholly unique. I cannot wait to read the next book!
All in all, great characters, awesome writing and a mystery waiting to be solved. Definitely recommended to everyone!
Have you read The Raven Boys? If you have, what did you think of it? If you haven't, what are you waiting for?! Read it now!