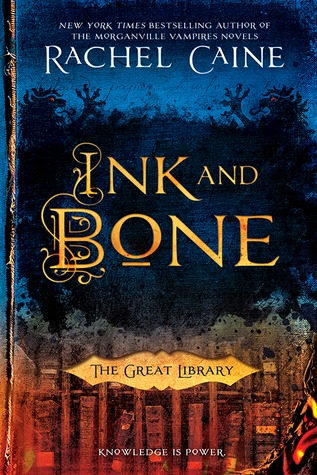 Ink and Bone
by Rachel Caine
Series/Standalone: Series – The Great Library #1
Genres: Fantasy, Alternate Universe
Age Category: Young Adult
Release Date: July 7th 2015
Rating: 3.5
I received an arc of this book from the publisher in exchange for an honest review.
In an exhilarating new series, New York Times bestselling author Rachel Caine rewrites history, creating a dangerous world where the Great Library of Alexandria has survived the test of time.…

Ruthless and supremely powerful, the Great Library is now a presence in every major city, governing the flow of knowledge to the masses. Alchemy allows the Library to deliver the content of the greatest works of history instantly—but the personal ownership of books is expressly forbidden.

Jess Brightwell believes in the value of the Library, but the majority of his knowledge comes from illegal books obtained by his family, who are involved in the thriving black market. Jess has been sent to be his family's spy, but his loyalties are tested in the final months of his training to enter the Library's service.

When his friend inadvertently commits heresy by creating a device that could change the world, Jess discovers that those who control the Great Library believe that knowledge is more valuable than any human life—and soon both heretics and books will burn…
This book fell really flat for me.
Ink and Bone was something that I had been really excited to read. When I got approved for an arc of it, I was over the moon. But imagine my disappointment when this book became one of the my least favorite reads of 2016.
The premise of this book was very promising. Imagine if the Great Library of Alexandria still exists, and is in absolute control of every book in the world. The MC, Jess, belongs to a family of book smugglers, and has been offered a seat in the Library. I dove in hoping for a darned adventure.
But what followed was really bland. There was no proper world building whatsover. I mean, England and Wales were at freaking war and it never was explained why. And even though it's set in 2025, it reads more like a historical novel. Also, the book is quite confusing in the beginning. The magic system and the hierarchy of the soldiers and scholars had me very bemused. It took me until I was halfway done to really get into the book.
What I liked in this book was the ensemble of characters. There's a lot of diversity, so hurrah! I liked Jess, who loved books as much as he loved his own life. Thomas, the huge German inventor, was an absolute sweetie. I really loved him! The other characters include Gwain, a Welsh girl who was at odds with with Jess for most of the book because of the rivalry between their countries, Khalila, who was a super intelligent Middle Eastern girl, and Dario, a Spanish boy and Jess' roommate. But my favorite character in this book was Wolfe, their proctor. He was a baddie in front of them, but so good inside, and my heart just went out to him. I loved him.
The writing is very slow. The first 25% of the book is a snoozefest and I put off reading it for days at end. The pace picks up only in the last 30% of the book. There were info dumps at a lot of places, which really didn't help the case.
Despite having a good ensemble of characters, this book did not manage to win my attention until the end due to its slow pace. I thought this one was alright, but I'm not really interested in picking up the sequel.
Have you read Ink and Bone? If you have, what did you think of it? If you haven't, do you plan on reading it soon?