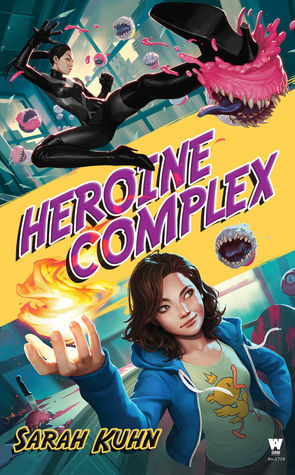 Heroine Complex
by Sarah Kuhn
Series/Standalone: TBD
Genre: Sci-Fi, Superheroes
Age Category: Young Adult
Release Date: July 5th, 2016
My Rating: 4 stars
I received this book from the publisher through Netgalley for my review. Thank you, Berkley Publishing Group!
Being a superheroine is hard. Working for one is even harder.

Evie Tanaka is the put-upon personal assistant to Aveda Jupiter, her childhood best friend and San Francisco's most beloved superheroine. She's great at her job—blending into the background, handling her boss's epic diva tantrums, and getting demon blood out of leather pants.

Unfortunately, she's not nearly as together when it comes to running her own life, standing up for herself, or raising her tempestuous teenage sister, Bea.

But everything changes when Evie's forced to pose as her glamorous boss for one night, and her darkest comes out: she has powers, too. Now it's up to her to contend with murderous cupcakes, nosy gossip bloggers, and supernatural karaoke battles—all while juggling unexpected romance and Aveda's increasingly outrageous demands. And when a larger threat emerges, Evie must finally take charge and become a superheroine in her own right… or see her city fall to a full-on demonic invasion.
SUPERHEROINES FOR THE WIN!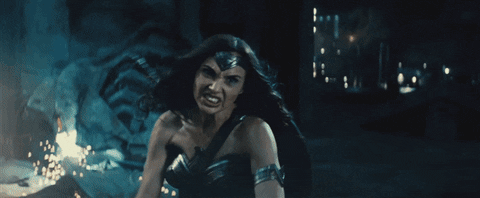 Heroine Complex is the story of Evie Tanaka, who is the best friend cum assistant of San Francisco's beloved superheroine, Aveda Jupiter (or, as she was known before she rose to fame, Annie Chang). When a portal from Otherworld opened into SF eight years ago, Aveda took it upon herself to become the protector of the city, and her steady rock is Evie, her best friend.
This book surprised me. I dove into it without any expectations, and it left me feeling satisfied. What I really loved in this book was our MC, Evelyn Kickass Tanaka. She was reliable and loyal and helpful and just pure awesome, period. I love how she always tried to be there for Aveda, even when she was being way too annoying. Speaking of that, Aveda sure got on my nerves a lot. Since the book has to end on a positive note, she does redeem herself, but I felt like strangling her sometimes. She was whiny and inconsiderate and jealous of Evie, and never tried to take Evie's feelings into consideration. There were some movements, especially the little flashbacks of their childhood, which I loved, though. I wish she stayed Annie Chang instead of becoming Aveda Jupiter.
The romance between Evie and Nate, their HQ's researchologist, was cute and sweet. I love hate-to-love relationships, so I was bound to like this one. The other characters, including Scott, Evie and Aveda's childhood best friend, and Lucy, Aveda's bodyguard were pretty cool. But Evie's little sister, Beatrice Tanaka, is another character I'm not really fond of. Her role model is Aveda. 'Nuff said.

This book's weakest point, IMO, is the antagonist. I do not want to reveal their name in case of spoilers, but trust me, I was NOT IMPRESSED. It honestly felt like a parody, and I'd rather Aveda kill cupcake demons (as pictured on the cover) than deal with the villain.
Well, then, why'd I give it four stars? Because I loved the MC, and many of the supporting characters, and the writing was really fun and flowed smoothly, and due to the heaps of diversity present in this book. YAY for Asian superheroines! Also, #INTENSECOVERLOVE
Does Heroine Complex sound like something you'd pick up? And who are your favorite superheroes?! TELL ME ALL.