Just Visiting
by Dahlia Adler
Series/Standalone: Standalone
Genres: Contemporary
Age Category: Young Adult
Rating: 4.5 stars
Reagan Forrester wants out—out of her trailer park, out of reach of her freeloading mother, and out of the shadow of the relationship that made her the pariah of Charytan, Kansas.

Victoria Reyes wants in—in to a fashion design program, in to the arms of a cute guy who doesn't go to Charytan High, and in to a city where she won't stand out for being Mexican.

One thing the polar-opposite best friends do agree on is that wherever they go, they're staying together. But when they set off on a series of college visits at the start of their senior year, they quickly see that the future doesn't look quite like they expected. After two years of near-solitude following the betrayal of the ex-boyfriend who broke her heart, Reagan falls hard and fast for a Battlestar Galactica-loving, brilliant smile-sporting pre-med prospective…only to learn she's set herself up for heartbreak all over again. Meanwhile, Victoria runs full-speed toward all the things she thinks she wants…only to realize everything she's looking for might be in the very place they've sworn to leave.

As both Reagan and Victoria struggle to learn who they are and what they want in the present, they discover just how much they don't know about each other's pasts. And when each learns what the other's been hiding, they'll have to decide whether their friendship has a future.
↪ Diversity. This book is chock full of diversity, and it was actually done right for once. One of the MCs is Mexican, her mom is deaf, and one of the guys is Indian. Yet, it never felt like the author included them just so she could check off a box for diversity. I especially loved how Victoria and Reagan both learnt sign language!
↪ The Friendship. Most of the YA contemporaries I read focus on the romance and not on the friendships between the characters, but that's so not the case here. The friendship is highlighted more than the romance, and that made me very happy. The romance was also quite sweet, though. It's nice to see the good guys get the girls for once 😉
Victoria and Reagan shared an amazing bond. Both of them were immediately there for each other whenever needed. They were quite different from each other, with Victoria being more interested in fashion and sororities and boys and Reagan concentrating more on her work and grades. But their friendship was so natural, and I absolutely loved it!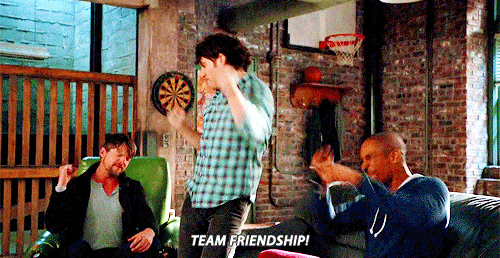 ↪ The Writing. Dahlia's writing is so beautiful and easy to read. I read this book from start to end within a day. Her writing flows and once you pick up this book, you definitely cannot put it down. I cannot believe that this is the first book I'm reading by her, and I definitely want to read more!
↪ The Cover. Last but definitely not the least, I want to say that I am so in love with the cover of this book. Look how cute it is! Both the girls running, and the beautiful field with the clear blue skies and that cute aqua font. The cover was why I actually picked up this book! #coversnob
Just Visiting is definitely one of the best contemporaries I've read this year. With amazing characters, beautiful writing, loads of diversity and an epic friendship, you'll definitely love this one!
Have you read Just Visiting? If you have, what did you think of it? If you haven't, go ahead and read it right now!